EVENTS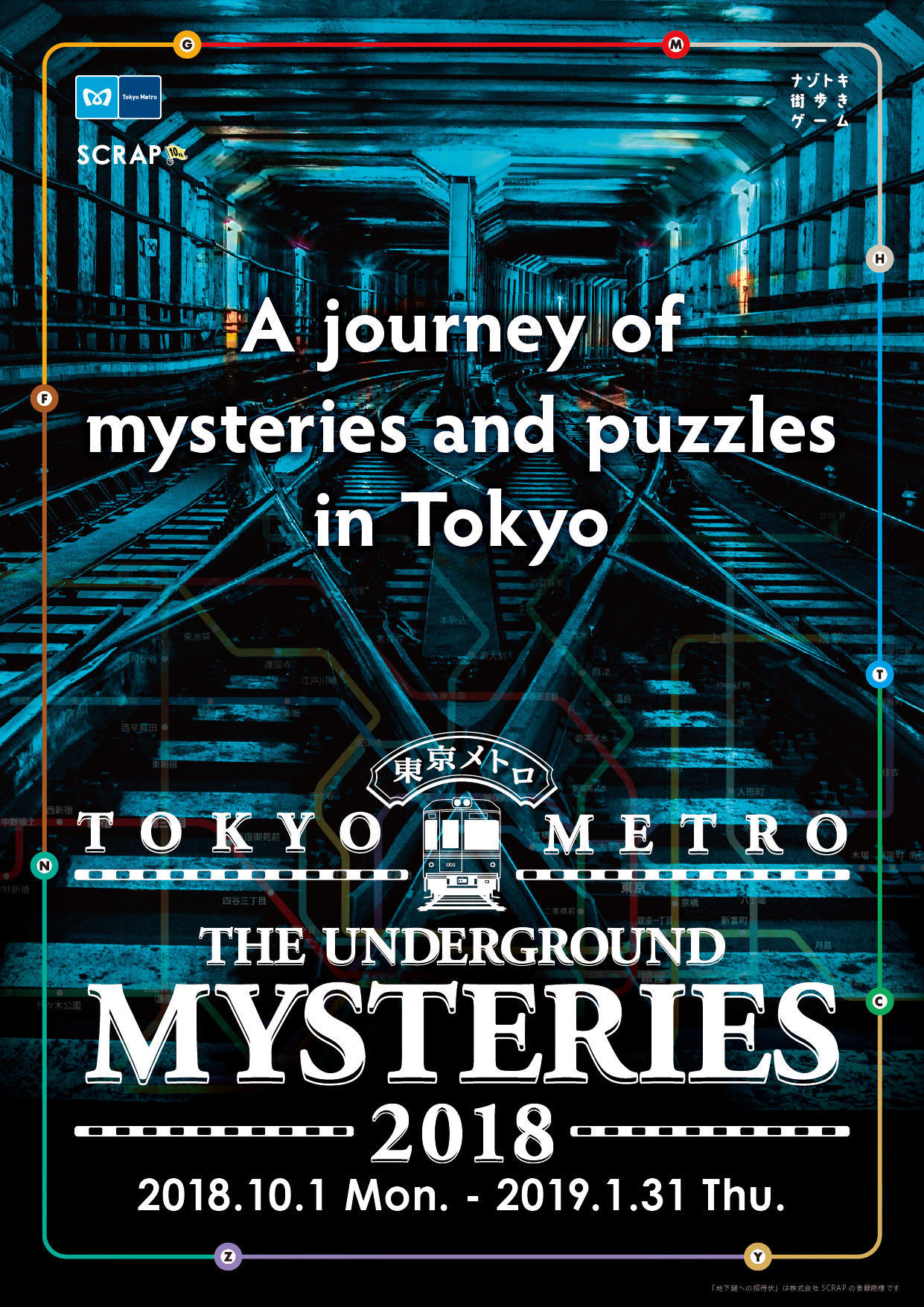 TOKYO METRO
The Underground Mysteries 2018
A journey of mysteries and puzzles in Tokyo

Thank you for travelling with the Tokyo Metro!
Did you notice? We have hidden puzzles all over Tokyo.

So we invite you on this mysterious journey.
We're sure you'll be able to meet many different sides of Tokyo in this journey.
Delicious Tokyo, beautiful Tokyo, or...
Oops, shan't disclose too much. Solve the puzzles and you'll find out more!

We wish you all the best in solving the puzzles we've hidden.
Of course, travelling by Tokyo Metro would be the most convenient.

What kind of game is this?
This is a puzzle-solving game played while walking through the streets of Tokyo.
To find your next destination, you will need to solve the mysteries you find along the way.
To clear the game, players need to use their "Tokyo Metro 24-Hour Ticket" and their game kit to crack the riddles and puzzles scattered around Tokyo.





FAQ
Q: Can non-Japanese speakers play the game?
A: An English version is available for this game so non-Japanese speakers who can understand English are welcome to play the game as well!

Q: Is there any time limit?
A: There is no time limit. You can even play the game over several days so please enjoy the game at your own pace! However, do note that the 24-Hour Ticket that comes with the game kit will only be valid for 24 hours from when you first use it. If you choose to play the game over several days, you will either have to buy another 24-Hour Ticket, or pay separately for the train fares.

Q: If I'm playing in a group, do I need to buy game kits for everyone in the group?
The game kit includes all the materials that are necessary for game play, as well as the Tokyo Metro 24-hour Ticket. Please get a game kit for everyone in your group.

Q: Will I require a mobile phone or an internet connection for the game?
A mobile phone is not necessary for the game, but an internet connection is. To check your final answer, you will need to submit it to the ANSWER box on the official website. You can do this by using any device (smart phones, tablets, laptops etc) to connect to the internet. Tokyo Metro offers free Wi-Fi at their stations. Refer to your puzzle guidebook on how to connect to the free Wi-Fi.

Q: Is there an age restriction?
There is no age restriction, but do note that the puzzles are set at a difficulty level more suitable for adults.

Also, do note that the game kits only come with 24-hour Tickets for adults.

Q: Can I get another game kit if I lose mine?
A: Apologies but we cannot give you another game kit in the event that you lose one. Please buy another game kit should you lose yours.

Q: I can't solve any of the puzzles! What should I do?
A hints page will be available when the game period begins to aid you with solving the puzzles.